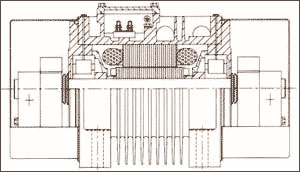 Sinex Primemovers offer based on their decade long experience, of totally indigenous development and manufacture of Unbalance Weight motor Vibrators, its new range packed with features simply unrivaled by any.
• Optimized design for efficient and fullest conversion of rated electrical in put into vibration power
• Increased centrifugal force values and greater spread all across the range.
• High ratio of centrifugal force to machine weight, a feature of great value for mechanical stability of driven machinery.
• High ratio of force to overall size representing most compact design
• Path breaking finned construction for highly enhanced heat dissipation, to the extent of 1000 %, giving Sinex motor vibrators an unmatc• ed electrical overload capacity.
• Thoroughly done product design for low cost manufacturing benefits of which being passed on to customers, making Sinex most competitive amongst motor vibrators of ' their class of quality '.
• Sturdy yet light frame constructed in shock resistant ductile metals of most appropriate grades duly heat treated and seasoned for strength and geometrical stability.
• Large holes for easy lifting, shifting and installation
• Top mounted integrally cast terminal box with resin bonded connection post for vibration proofness. Well gasketed sturdy
• lid protects against dust, dirt, moisture and humidity.
• Positively held into frame a vibration proof stator having deep immersion / vacuum impregnated winding with minimum class 'F' insulation materials to suit up to 60'C ambient.
• Largest feasible shaft made out of appropriate grade alloy steel for strength and minimum deflection.
• Heavy duty bearings only of appropriate types for Iong life and maintenance free working.
• Innovative facility for bearing lubrication, scavenging used grease and replenishing new, without shutdowns and machine dismantling thereby resulting in easy and hence assured servicing for enhanced bearing lives.
• 'V' seals on shaft extensions to protect bearings, over and above that done by unbalance weight covers, in very highly dusty,dirty and humid surroundings.
• Reshaped unbalance weight for optimum usage of mass, incorporating clamping arrangement for safety with easy adjustability.
• Standard sheet metal covers for unbalance weights with tight and positive rubber sealing rings on bearing housing for IP 56 protection.
And Several Options Like :
• Thermistors for size EMV-5 and above ;
• Cast aluminium unbalance weight covers for IP 65 protection
• Power supply 50 or 60 Hz, up to 650 V and 3 phase
• Single phase up to size EMV-3
• Short time rated machines
• Besides foot, other mounting styles - flange, wedge, oscillating base etc.
• Pole changing 2 speed vibrators.